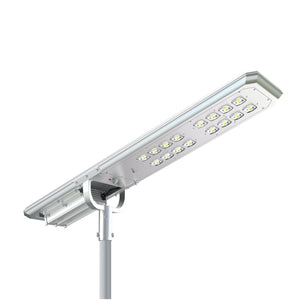 100W Solar LED Street Light 10,000 Lumens, 3 Programmable Lighting Modes
All In One Solar LED street lights are used for ease of install in all applications. The term All is One (AIO) is used since the Solar Panel, LED Light, Battery, Mounting material, and Inverter are fit into one fixture. This reduces installation cost, eliminating digging, trenching, and using heavy solar panels to sit on top of poles. Moreover, to provide a high quality LED light, the solar lights include cutting edge technology in solar and LED advancements to date.

Trench Wiring – You do not need to run underground wire from the nearest electrical transformer to your lighting system.
Trenching – Completely standalone, self-contained Solar Street Light System, you do not need to pay the additional costs of digging trenches for your underground wiring.
No Electric Meter – There is no need to meter your lighting system. This means you save the cost of purchasing and installing a meter, and the electrical connection fees.
No Electric Usage Charges – Because its entirely Solar Powered, you don't need to pay for electrical usage.
Buy today and save on light bulb replacement, maintenance and installation cost.
Features:

Smart Button Functionality - programmable lighting modes to satisfy most applications with 3 different lighting modes which includes:
Mode 1. PIR Motion Sensor for Energy Saving 30% at 12 Hours and PIR motion (goes to 100% if someone walks by)

Mode 2. Variable Frequency Technology (VFT) 100% at 5 Hours + 25% at 5 Hours and PIR + 70% at 2 Hours

Mode 3. ALS2.0 + VFT + TCS Technology for All Night Lighting 70% at 12 Hours

Note: The pole is not included.

Specifications
SKU: 100062-100063
Certifications: CE, ROHS, FCC, BV, BSCI, ISO
Color: 6000K | 4000K
Watts: 100W
Lumens: 10,000
Sensor: Auto Dusk to Dawn Sensor, PIR Motion Sensor
Solar charging time: 11 hours by bright sunlight
Mounting Height: 20~26 ft (recommended space between lights: 20-50ft max)
Lighting time: Over 7 nights
CRI: Minimum of 70
Battery: Li-ion battery/180AH, 3.7V
Material: Aluminum Alloy + Tempered Glass
IP Rating: IP65 Rated
Size: 61.5in x 15in x 3.3in
Warranty: 2 years
Remote: No remote needed, button on fixture will switch modes
This product does include the mounting hardware.
Applications:
Courtyard / Garden/Park / Street / Roadway
Pathway / Parking Lot / Private Road / Sidewalk / Public Square
Plaza / Campus / Airfield / Farm & Ranch / Perimeter Security
Wildlife Area / Remote Area / Military Base
---
We Also Recommend